Monument «The great poet Abai with his sons" is opened
Goodsite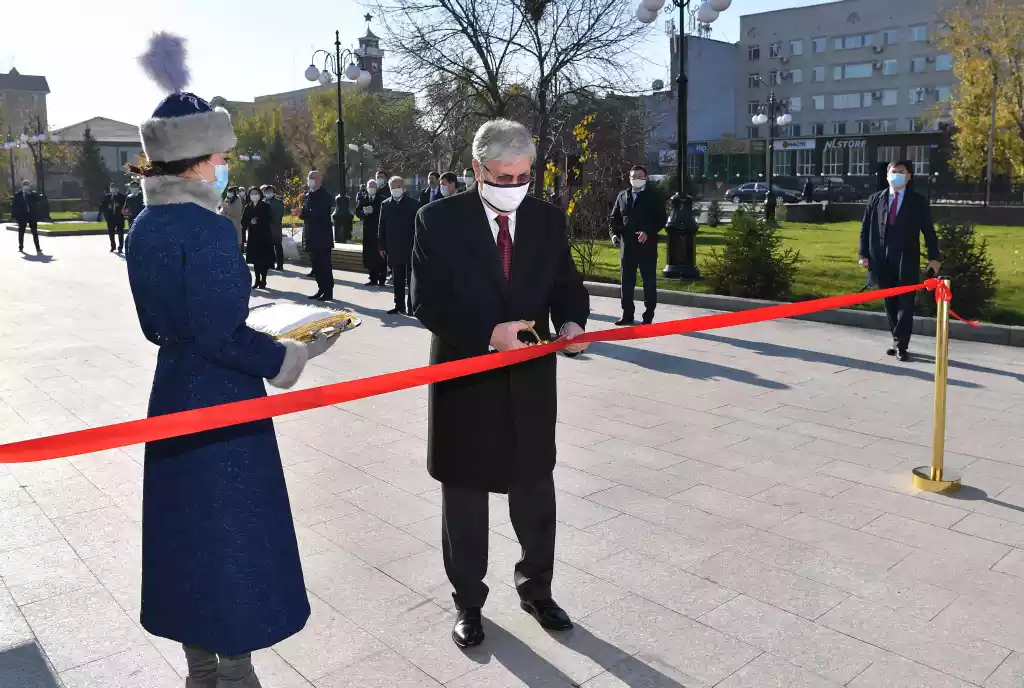 President Kassym-Zhomart Tokayev, who arrived on a working visit to Semey, unveiled a monument to the great poet Abai and his sons on the territory of the museum. The author of the monument based on the photo of the poet is the sculptor Nurbol Kaliev, who seeks to show the special love and unlimited pride of his sons towards his father. The height of the bronze monument is 5 meters.
The composition was opened on the 175th anniversary of Abai's birth. The monument depicts the sons of Abai Akylbai and Turagul.
Congratulating the public on the 175th anniversary of Abai Kunanbayev, the President noted that the honoring the poet with the people is our holy duty.
For this, the modern generation must feed on the heritage of Abai and develop spiritually. This monument should inspire the younger generation. Abai and his wise sons Akylbai and Turagul, combining his words and deeds, are role models for the country. It depicts the continuity of generations, respect for the father and child. This is a work reflecting the nobility of the Kunanbai Haji dynasty. The teaching of the Abai family is a manifestation of the growth of the nation. General education should be one of the main factors in shaping the quality of the nation! "the President said.
The President noted that this year special attention was paid to the celebration of the 175th anniversary of Abai, large-scale events were held at the national and international levels, the poet's legacy was promoted, his words were conveyed to the younger generation.
"We did not allow embezzlement and glory in the anniversary. I think this is one way to ban the "pride" and "fussy rhetoric" that Abai said. The legacy of a great thinker is an invaluable asset that will pave the way for the further growth and prosperity of our country. May the noble spirit of Abai lead to great ideals! – concluded Kassym-Zhomart Tokayev.
It should be noted that only two photographs of Abai Kunanbayev have been preserved, one of which was taken in 1896 in the salon of photographer N.G. Kuznetsov in Semey with his sons Akylbai and Turagul. In this photo, which is the basis of the monument, Abai Kunanbayev is 51 years old. This was the time when he became the ruler of the country, occupied high positions, gained great experience and became famous in many countries. Akylbai was 35 years old, Turagul was 21 years old. Akylbai has already become the father of five children, and Turagul is a young man.
The opening ceremony was attended by Secretary of State K. Kusherbayev, Minister of Culture and Sports A. Raimkulova, scientists, veterans and representatives of the intelligentsia.
Arai Talgatovna
Press Service of the State Reserve Museum of Abai "Zhidebai-Borili"